They will wow you with complete luxury experience and superior hair artistry!
North Haven, Connecticut
- The popular Chameleon Haircolor Café and Spa is proud to announce that it is opening its third full-service salon and day spa in mid-September in North Haven. Chameleon Haircolor Café and Spa's masterful staff is excited to provide their signature haircutting, haircolor and nailcare artistry, along with tanning and an array of luxurious spa services.
Chameleon Haircolor Café & Spa's creative abilities and luscious pampering will wow anyone who enters this brand new salon. This new location, at 323 Washington Avenue in North Haven, will offer every service provided at their New Haven and Wallingford locations, while also offering even more spa treatments and an even larger relaxation area. In the new spa section, guests will enjoy Chameleon's massage, body treatments, facials, hair removal and numerous other spa services.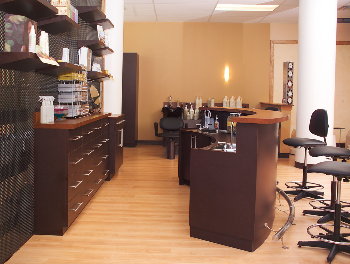 Carleen Buden, Chameleon Haircolor Café & Spa owner, is thrilled to be able to show another part of town what Chameleon can do. Buden notes, "Our professional team is dedicated to bringing out your true beauty, while customizing each of our services just for you."
Everything about Chameleon Haircolor Café & Spa speaks cutting-edge, from their chic décor to their talented and well-educated staff. Always a trendsetter, Chameleon will showcase their unique Color Bar at the new salon. This is an innovative feature where guests sit at a stylish bar to watch their haircolorists mix unique haircolor formulas in martini glasses. Unlike most salons, where haircolor is a hidden mystery mixed behind closed doors, Chameleon guests can openly converse with haircolorists about their personal mixture.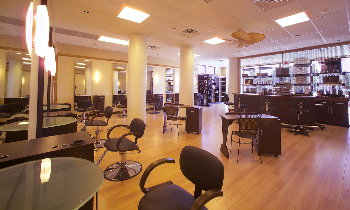 Superior quality customer service is the top priority for the Chameleon staff. Upon arrival, salon and spa guests are offered complimentary cappuccinos and other refreshments. You may even have the opportunity to enjoy a complimentary hand and arm massage while waiting for their next service.
Chameleon Haircolor Café & Spa was founded in 1999 when Carleen Buden, trained at the renowned Vidal Sassoon Academy, saw that Connecticut needed a truly friendly and innovative luxury salon. She introduced the local community to advanced skills, trend-setting hair designs and standout customer service. Buden holds each member of her staff to the highest standards with weekly classes and advanced skill certifications. She holds herself to the same high standards by regularly attending training programs with Wella and Bumble & bumble international haircare companies alongside her staff.
Chameleon Haircolor Café & Spa has proudly emerged recently as a recognized national leader in cutting-edge hairstyling. They have been featured nationally in several publications, notably Shortcuts and Celebrity 101 Hairstyles Magazines and locally in Around The Towns Magazine. Chameleon will keep creating buzz as it continues to provide the ultimate salon experience at each of its now three locations. Their hairstyles and haircolor artistry have also been published by Passion International Stylebooks, after receiving a special invitation to an exclusive photography session held in Washington DC with top hair designers from across the USA.
For a free professional hair, skin or nail consultation, visit the new Chameleon Haircolor Café & Spa is now open at 323 Washington Street, North Haven, or call them at 203-234-7900. Or, visit their other locations at 199 Crown Street, New Haven, 203-772-1523 ~ or ~ 777 North Colony Road, Wallingford, 203-294-0526.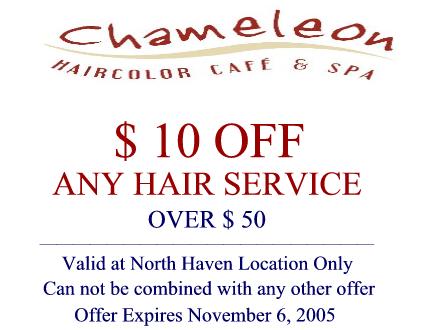 Click Here To Print Coupons
A Statement Of Service

OUR MISSION: We use our talent and experience to create a personalized look for you. We listen attentively to provide a style, a statement about you, and about your lifestyle. We pride ourselves in taking time to detail every cut and color service. Whether we create a new look or freshen a familiar one, our team is dedicated to bring out your true beauty.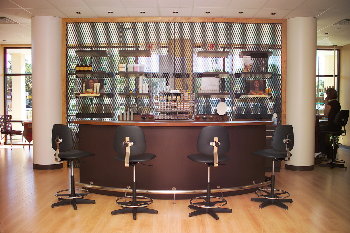 ---

crème DE COCO Arrives From
Bumble & bumble

The latest from Bumble & bumble has arrived at Chameleon Haircolor Cafe & Spa….crème DE COCO! This shampoo and conditioner is extra mild with blends of moisture rich ingredients of coconut and murumuru butter, which restore shine and softness to dull or dry hair. Indulge your hair with crème DE COCO, in our salon now!

Chameleon Haircolor Cafe & Spa to open a new salon at
323 Washington Avenue ~ North Haven, CT!

We are pleased to announce we will be opening our newest
This beautiful, state of the art, full service salon and spa will indulge your senses. Check out our new expanded retail shop, then enjoy color and styling services at our exclusive color bar. Also relax in our private spa waiting room before enjoying a facial or massage.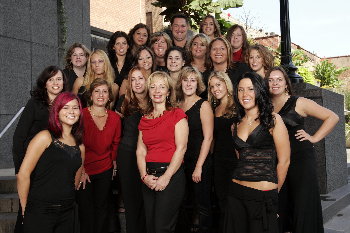 ---
WHY CHAMELEON HAIRCOLOR CAFE & SPA
Chameleon Hair Color Café & Spa exists to relieve you from the mundane. Enter one of their three trendy full-service salons and day spas and you are introduced to creativity and service you thought existed only in your imagination. Chameleon Hair Color Café & Spa provides you with a completely luxurious experience! Their salons are widely known for their superior hair artistry, especially their innovative hair color techniques, razor haircutting and provision of every hair design imaginable. Massage, body treatments, hair removal, tanning beds and facials are among their array of superb spa services. Various treatments are accompanied by luscious and refreshing perks like lavender scented hot towels around the neck after a short haircut or an aromatherapy treatment. Everything about Chameleon Hair Color Café & Spa speaks cutting edge, from their chic décor to their talented and well-educated staff. Chameleon always uses the newest, state-of-the-art professional products and equipment, embracing exciting change in the fashion world around them. Their masterful staff stands steadfastly at the top of their league, devising advanced haircutting techniques to perpetually rise above the technical and creative abilities of other salons. Each staff member is held to the highest standards with weekly classes and advanced skill certifications. To continue Chameleon's reputation as an ultra-progressive leader in the industry, every person in the company must continually improve themselves. The staff, including the owner, Carleen Buden, regularly attends advanced training programs with Wella and Bumble & bumble in New York City